Public opinions solicited for man-made beach at SZ Bay
2021-06-29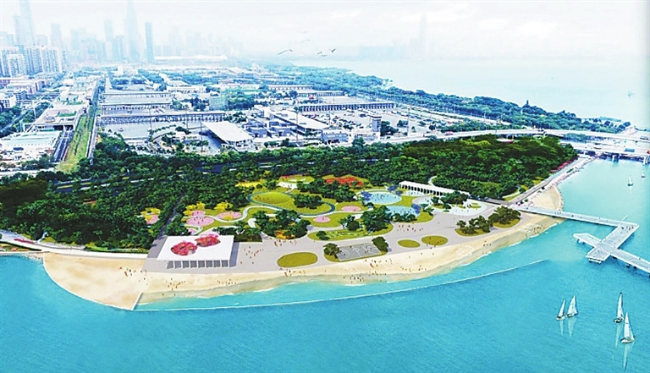 THE city is planning to build a man-made beach at the Shenzhen Bay Coastal Leisure Belt.
The Shenzhen Municipal Urban Administration and Law Enforcement Bureau has applied for the right to use the sea area and planned to carry out a beach restoration project at the leisure belt, also known as the Shenzhen Bay Park, Shenzhen Special Zone Daily reported Saturday.
At present, relevant information for the project has been publicized. Citizens can submit their opinions via email to nsgljlyk@pnr.sz.gov.cn or call 0755-26581891 until July 7.
The beach restoration project will place 39,050 cubic meters of sand in the shore from an area between section C of Shenzhen Bay Park and the Sports Park on the north side of the Shenzhen Bay to the vicinity of Shenzhen Opera House in Shekou, Nanshan District.
The project's service life will be 40 years, with a total sea area of 2.48 hectares. The project will also occupy an artificial shoreline measuring 263 meters, according to the Daily.
The beach restoration intends to weaken the effect of waves and tides and reduce mudding and subsidence through the construction of a submerged dike, a demonstration report shows.
It is also aimed to expand the beach area, improve regional ecological functions, disaster prevention and mitigation capacity and provide citizens with more spaces to get close to the sea.
Citizens have mixed opinions on whether man-made beaches should be built in Shenzhen Bay after the project was publicized, according to the Daily.
People who agree with the project think that Shenzhen is a coastal city, but the beaches are mainly located in the eastern sea area and are far away from the city center. They believe that man-made beaches should be piloted at Shenzhen Bay and Qianhai to boost tourism.
Those who oppose the project, especially some environmental protection organizations, suggest that the construction of man-made beaches should be postponed. According to them, man-made beaches will not only destroy the original "mudflat benthic ecosystem structure" in Shenzhen Bay, but also intensify sediment deposits. Amid the crisis of global sand shortage, the ecological environment where sand will be mined will also be damaged.
In October 2017, the Nanshan District Urban Administration Bureau carried out a beach restoration project on the coastal section of Shenzhen Bay Sports Park. The repaired coastline is about 100 meters long, which is the only man-made beach on the western coast of Shenzhen. However, due to factors such as waves and tidal currents, there has been a certain sand loss on the beach, which has resulted in mudding and beach subsidence. (Shenzhen News)