Guangming District celebrates 3rd anniversary
2021-09-17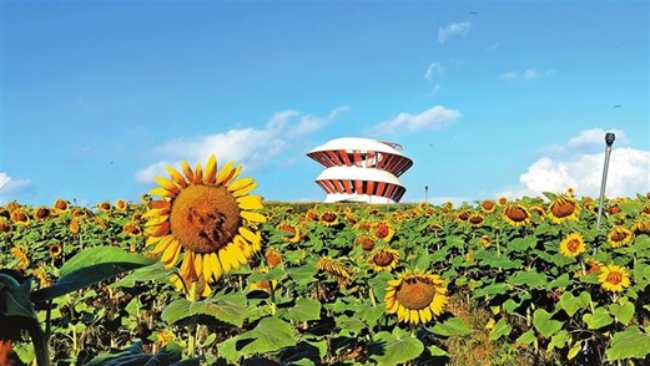 OCT Guangming Town. Courtesy of Guangming Media Convergence Center
Guangming District will celebrate its third anniversary Sunday. The district was given the historical mission of building "a world-class science city and the northern center of Shenzhen" when it was established in 2018.
Open, innovative area
Guangming is located at an important site in the Guangdong-Hong Kong-Macao Greater Bay Area (GBA). It has a solid industrial foundation, an obvious advantage in location and a huge potential for future development. Guangming Science City has a planned area of 99 square kilometers with three components: the Guangming central district, the scientific facilities cluster and the industrial transformation area.
Guangming Science City is committed to promoting applied fundamental research, enhancing original innovation capabilities, creating a core bearing area as a comprehensive national science center, a key innovation platform for the Guangdong-Hong Kong-Macao International Science and Technology Innovation Center, and a "main engine" for technological innovation in the GBA.
In January 2019, Guangming Science City's construction entered the fast track since the official start of building supportive civil engineering projects for two large scientific services, brain analysis and simulation, and synthetic biology research. In June 2020, Shenzhen Bay Laboratory officially settled in Guangming and in December 2020, the Shenzhen Institute of Technology Innovation of the China Institute of Metrology was officially unveiled, representing the further growth of the "national team" of high-end scientific research institutions in Guangming Science City. In December of the same year, the Shenzhen Engineering Biological Industry Innovation Center was officially inaugurated. In January 2021, the main structure of the science city's startup area was fully capped. In April, the science city's scientific research institution platform settled in the area, marking Guangming's new stage gathering science and technology platforms and a great improvement in innovation capabilities. In August, the startup area's total project progress was about 78 percent completed.
Humanity and livability
Guangming's traffic system is convenient, especially with the official opening of Metro Line 6 on Aug. 18 last year. Travel to Guangming from Futian CBD only takes half an hour and there will be more Metro lines available in the future such as Metro Line 13, the spur line of Metro Line 6 and the Ganzhou-Shenzhen High-speed Railway, which will further promote Guangming's connectivity with other regions.
Guangming also has abundant cultural resources. Sunshine shines through the tall French windows of its magnificent library, where citizens read quietly and can see New Town Park's beautiful forest landscape outside the window. At the newly opened Guangming Culture and Arts Center, citizens can visit art exhibitions in their spare time or enjoy musicals and concerts in the evening.
Guangming has made great achievements in education. The district has invested 9.3 billion yuan (US$1.44 billion) in education for the past three years, more than three times the GDP growth rate over the same period. It has added high-quality educational resources such as the Shenzhen Affiliated School of Sun Yat-sen University, Shenzhen Experimental Guangming School, and Shenzhen University Affiliated Experimental School.
Guangming's health care has been improving in recent years. The Seventh Affiliated Hospital of Sun Yat-sen University, which is also the largest public hospital in Shenzhen, is located in the district. Guangming District Maternal and Child Health Hospital is now operational. Other facilities are still in construction such as the new Guangming District People's Hospital and the Shenzhen Guangming Traditional Chinese Medicine Hospital, with its main structure fully capped.
Wise, green area
Guangming has unique ecological resources such as Guangming Lake Reservoir, Shenzhen's largest reservoir, and the Maozhou River, Shenzhen's longest river. What's more, it is surrounded by 60,000 acres of mountains and forest land. Over the past year, Guangming has built 260 parks, and its per capita green area of parks increased from 16.92 square meters in 2018 to 30.85 square meters in 2020, ranking first in Shenzhen. Red Bridge Park was selected as one of the top 10 popular attractions in China during the 2021 Spring Festival. Another location, OCT Fun Farm, located 5 kilometers away from Red Bridge Park, is a beautiful place to visit, full of flowers surrounded by greenery. In addition, the Gooseneck Water Wetland Park features clear emerald green waters, which residents can enjoy.(Shenzhen Daily)